>

>

>

Top Paying Hospitality Careers in the UK
---
Hospitality careers are very rewarding in the experiences you will gain and the people who you'll encounter and work with. But let's not forget a major factor when people are applying for jobs – money!
At Off to Work we find work for team members at all levels – but even if you are just starting out it's good to know which high paying jobs you may want to aim for in future.
Hotel Manager
National Salary Range: £19,000 - £44,000
National Average Salary: £27,000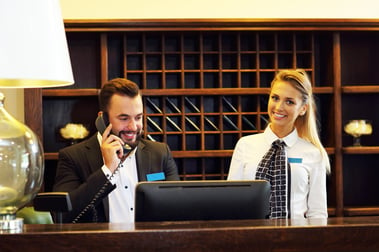 What does a hotel manager do? The question should be what DON'T they do!
Hotel managers are responsible for the day to day running of the hotel, overseeing every department to ensure that guests receive the best quality service. Each department will have a manager who reports to the Hotel Manager, who then makes executive decisions which impact the whole hotel. You'll be recruiting and managing these department managers and reporting back to the hotel owners on a regular basis.
Don't worry about being chained to your desk - you'll regularly tour the hotel to check that each area is operating smoothly.
Candidates seeking a Hotel Manager role must possess excellent people skills, along with a calm demeanour under pressure. They need to be organised but be able to make quick decisions in emergency situations. Easy, right?
OTW Recruitment Tip: many hotel groups have management programmes in which recruits are moved around all areas of the hotel, to gain an understanding of how each area works.
This experience would be a great additional to your CV, and potentially help you land a Hotel Manager job later down the line.
Restaurant Manager
National Salary Range: £18,000 - £33,000
National Average Salary: £23,000
Are you a multi-tasking whizz, with excellent customer service skills and a passion for food and drink? The role of restaurant manager might be for you!
As well as managing day-to-day bookings the restaurant manager is responsible for hiring and training new team members, ensuring stock is ordered correctly and keeping to budgets to make sure the business is profitable. Expect to be jumping in to help run a busy service, then nipping back to the office to crunch the numbers on a spreadsheet, order a new type of wine to feature on the bar and send quotes to clients looking to privately hire out of the restaurant areas. Never a dull moment!
It can be a busy role, but the camaraderie you will gain from working closely with your team is hard to beat!
Check our our latest restaurant manager roles on our jobs board!
Meeting / Events Manager
National Salary Range: £23,000-£48,000
National Average Salary: £30,000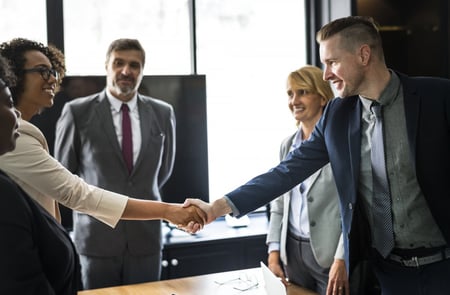 Any hotel or conference space needs a events manager to look after bookings for events. This job requires you to be extremely organised and able to work within a budget. You also need exceptional communications skills to charm and manage your clients, as well as manage your team for the event.
It's a great role for someone who likes to change things up – as each client will bring their own expectations and requirements.
You'll need experience in sales for this one, as being able to pitch and close a deal is a vital requirement. If you're ambitious and thrive on delivering amazing experiences to your customers then this one is for you!
Housekeeping Manager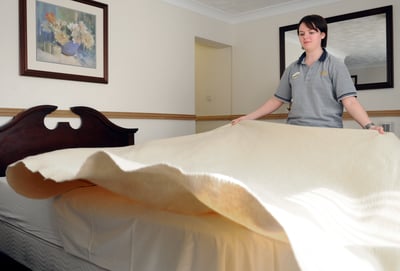 National Salary Range: £18,000-£39,000

Though you do need to have the highest standards when it comes to cleaning and tidying, this role is also a logistical one.
You'll need to be able to balance the rota of your team with the needs of the business, ensuring that you have enough staff to cover all rooms which need cleaning.
Each morning you'll plan which rooms to clean first – prioritising rooms which have new guests arriving later in the day. Customer service skills are a must, in case you need to defuse a tricky situation with an unsatisfied customer.
Check our our latest housekeeping roles on our jobs board!
Executive Chef
National Salary Range: £28,000-£79,000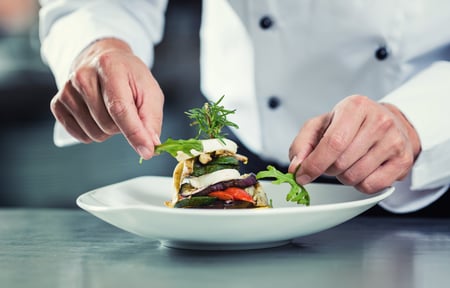 All kitchens work to a strict hierarchy and the Exec Chef is top dog.
This is mostly a management role, responsible for the creation of new dishes and menus, so would suit an experienced chef who has worked their way up the ranks and is looking for more steady, sociable work hours.
It's a creative role, as most of the cooking will be testing out various ingredients and dishes.
Executive Chefs may work at one location such as a hotel or restaurant or across a range of venues. Executive chefs working for events companies are responsible for creating specific menus for a whole season of events.
OTW Top Tip: to start your culinary career check out our kitchen skills upskilling blog
I'm just starting out, but I want a highly paid hospitality job. Where do I start?
You'll notice that most of these jobs have "manager" somewhere in the title. Don't worry if you don't have a management degree though, as hospitality is an industry where you can work your way up by the experience that you have.
It's important to start adding management experience to your CV. Why not check out our upskilling blog which has a section on team leading?
Now you know the top paying hospitality jobs to aim for, book in for a quick chat with our talent placement team for a consultation about our current opportunities:
Salary projections are UK-wide from GlassDoor.co.uk, April 2019