>

>

>

Meet Coleman: The Ice Master
---
"Off to Work has helped me become a confident, more well-rounded person."
Success Stories is our new series where we put the spotlight on one of our Team Members to share their Off to Work journey. We had a chat with Coleman, who recently finished a season working in the ice rink at the Natural History Museum. He shared the most significant qualities he gained from Off to Work, on-the-job celeb spottings, and how his experience has prepared him to study abroad!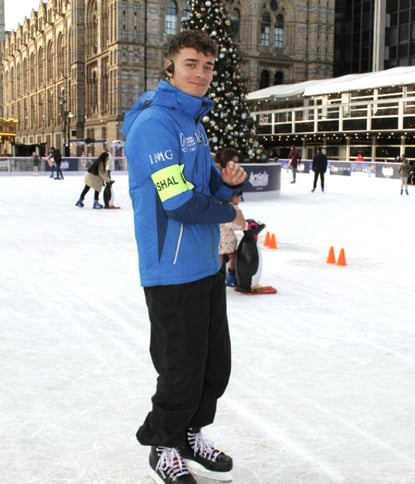 How did you come to find out about Off to Work?
After completing my A-Levels, I received my offer at university and deferred my place so that I could take a gap year. I started working for the National Citizenship Service (NCS) as a Youth Worker in August 2019, and a colleague there introduced me to Off to Work.
I wasn't actively looking for a job as I was already doing NCS, and I had my athletics training, but I want to find other ways to fill my gap year. I also wanted to save money for university next year.
What initially drew me to Off to Work was the colleague who referred me saying that it was very flexible. She was able to pick her shifts around the days we had off during our NCS. They were also well paid, which was good as I was looking for an easy way to make and save money quickly.
Tell us about your time at the ice rink at the Natural History Museum.
I worked at the ice rink from October to early January, initially as a boot handler. I was excited to work there because the managers would let us skate during our breaks.
My manager spotted that I was pretty good on the ice, and asked if I wanted to take on some Ice Marshal shifts. I really liked being a Marshal because I loved being on the ice; I got to improve my customer service and get better at skating. The shifts were usually 12 hours, so I had a lot of time to practise! I loved every minute of it.
"Three words I'd use to describe Off to Work? Varied, opportune, and family."
I felt quite lucky as a lot of people took me under their wing on various shifts. And even walking into the office, all the coaches and office staff are really friendly and inviting. I found that they really look after your wellbeing, even when they're not physically out on shift with you.
Especially working at the ice rink, I was working closely with a regular team of people, so I got to know them well and become good friends.
What other shifts did you do before you worked on the ice rink?
I did a lot of Stadium shifts for Watford and the Emirates, and a few waiting shifts here and there.
I also worked a few Platinum shifts, and one shift of note would be the premier of Catherine the Great, the new series on Netflix. They did our hair and make up for that event to reflect the style of the show, which was different for me but really fun. We also got to encounter a lot of prestigious guests, like Dame Helen Mirren!
Shifts like these give you the opportunity to meet some really interesting people. I also worked an event that celebrated the end of London Fashion Week, where there were lots of famous models, like Kate Moss and Naomi Campbell.
"I would tell someone considering joining Off to Work to get stuck in. You've got to really go for it; if you see a shift that you wouldn't usually consider, just accept it and see how it goes. If you want to get the best out of Off to Work, you have to get involved with everything they have to offer."
What do feel like you've gained during your time at Off to Work so far?
Before I joined, I already considered myself an outgoing and confident person. But particularly after working at the ice rink, I feel a lot more confident in delivering customer service and have learnt to really go for it.
I'm much better at finding a middle ground when dealing with conflicts or complaints from customers, and that's been through dealing with all sorts of different people. Dealing with people comes naturally to me now, and I feel like I've become a more well-rounded individual.
What are your plans after Off to Work?
I've been accepted to a university in the States starting in September. And because I'm an athlete, specialising in decathlons (anything from pole vaults to 100m races to high jumps to discus throwing), they are recruiting me to an athletics program to train and compete with a team throughout my time at university.
Off to Work has helped me save money and build invaluable confidence I'll need for life at university in the States.
Want to create your own Success Story? Get in on the action!