>

>

>

How Are You Keeping Your Events Safe?
---
Event security entails so much more than just dotting security personnel around your venue.
We are hosting a free Security Best Practise seminar on Thursday 30th January 2020, in conjunction with Ilea and Boulevard Events, in light of recent government backing of Martyn's Law.
Recent attacks over the years have shown the importance of proper event safety, security planning, and the value of effective emergency response. Martyn's Law is a campaign which will require public spaces, such as concert venues and sporting stadiums, to have counter-terrorism advice and training in place. Named after Martyn Hett, one of the 22 victims of the Manchester attack in 2017, the initiative recently received government backing and aims to enforce airport-style security checks at concert venues and sporting stadiums to prevent future events being targeted for terrorism.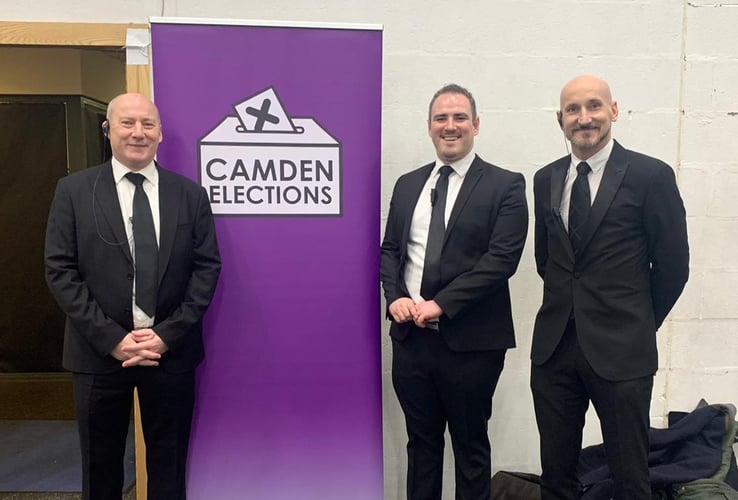 Jason Henderson (middle), Off to Work's Head of Security, is using his unique perspective to host a seminar on security awareness
Festivals, concerts, fairs, conferences, sporting and political events by their very nature attract large crowds, and may become targets for crimes such as theft, robbery, assault and terrorism. That's why our Head of Security, Jason Henderson, is hosting a free educational talk on Thursday 30th January, about how Martyn's Law will effect event safety and how event organisers can be more mindful of everyday security measures within hospitality.
With over 15 years of knowledge within security and hospitality environments, Jason will be using his unique expertise to educate attendees on how great security can enable exceptional service at events. Topics in his hour-long talk will include:
What is security? How being more mindful of security in everyday life can help event organisers keep events safer from the get-go.
De-escalation techniques and conflict management. Non-physical ways of dealing with conflict and how to effectively calm angry/drunk guests.
Delivering effective security briefings. An in-depth look at giving security briefings, not only to security teams, but also to wider events teams.
Martyn's Law and terrorism awareness. A discussion on how Martyn's Law is taking effect, whether your event may be a target for terrorism, and ways to mitigate risk.
Law surrounding security personnel. Discussing what SIA is, why your teams need SIA badges, and other things security teams need to be aware of.
Top 5 weaknesses in event security, and how to counter them.
There will also be a Q&A session at the end to explore the topics discussed in more detail. Everyone will receive a certificate of attendance, which can be used to emphasise your commitment to keeping events safe.
The talk takes place on Thursday 30th January 2020 at the Salesforce Tower, 110 Bishopsgate, London, EC2N 4AY. Arrival at 4pm for a 4.30pm start, followed by networking drinks and food at 5.30pm sponsored by Boulevard Events.
More About Jason
Jason has a 15 years experience working within Security, Policing and Hospitality, and has been lucky enough to work in some of the UK's most high-profile security events. Some of these include policing major public order events, local and general elections, the London 2012 Olympics, Historic Royal Palaces, and extensive experience in London's nighttime economy.
Having started his career at 18 as a doorman in central London, Jason quickly worked his way up the ladder to be the Security Manager at a major city complex. Following this, Jason has worked in middle and senior management for Professional Security, Andrews International, Wilson James and most recently as a Police Officer for the Metropolitan Police in a huge variety of teams.
As well as Security, Jason has continued to work within hospitality as a waiter, bartender and manager for several of London's best event caterers, giving him unique insight into all elements of events and how to ensure best security practice.

In conjunction with: