>

>

>

Introducing Aidan and Bud - Our Off to Work Musicians
---
At Off to Work, we always do our very best to recruit and develop amazing and talented members of our front and back of house teams. Aidan and Bud are two of our Off to Work stars and twin music duo, who have just debuted their self-made music video.
We caught up with Aidan and Bud, two Off to Workers who form the Rock n Roll duo 'We Are One'. They talk to us about growing up in Doncaster, their favourite Off to Work memories, and music aspirations...
1. Do you have a stand out shift or moment whilst working for us?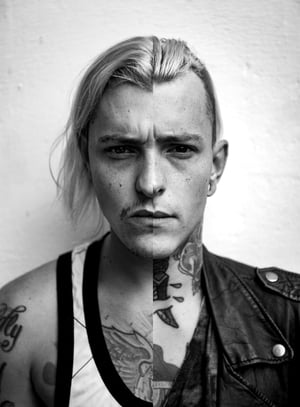 To be honest we have several stand out moments. Working at cup finals at Wembley is incredible and working at the O2 for Macklemore was terrific, so let's say those two. We would also like to say that growing up in Doncaster, never in a million years could we have ever imagined working at these events and in the boxes at these great stadiums and occasions.
2. Do you have a 'favourite' client to work for?
Our favourite clients are probably Fulham and Arsenal Football stadia where we have worked over 50% of games this season as a regular in their boxes.
3. Tell us more about the background of your music – its foundations, stylistic influences, inspiration?
We have been writing songs together for over ten years. All types of music influence our style and sound, we don't judge music by genres we just listen to what we enjoy, and we write the same way. A lot of our inspiration comes from growing up in Doncaster and striving for more, eventually managing to escape. We aim to inspire our listeners to do the same.
4. Tell us a bit more about the making of your music video?
We self-funded the shooting of the music video. Usually, a video of this quality would cost around £10,000+ but through connections we have made in the last four years we did ours for under £1,000. This included venue, lighting, director + assistant, cameras, editing, and colour grading. We shot the video at 7 am on a Saturday morning, from start to finish in 3 hours with no prior rehearsal. Our drummer and guitarist had never met before the video shoot!
5. As musicians, where do you aspire to be in a few years?
We don't care for fame or money we just wish to travel the world while playing our songs and inspire others to chase their dreams.
6. How easy is it to balance working alongside pursuing your music / artistic projects?
It is tough to pursue music at all but that added struggle drives us on more, Off to Work has played a huge part in making it possible for us to persevere.