>

>

>

5 Affordable Ways To Get Into The Spirit in London
---
Want to make the most of the Christmas festivities in London without breaking the bank? Here are some of our favourite budget-friendly Christmas activities around the city.
Christmas is meant to be a time of celebration and happiness – a period of gift giving, indulging on delicious food and festive drinks and spending time with loved ones. Yet for many, Christmas can also be a great cause of stress and unhappiness.
It is often a time where people feel the effects of loss the most, not to mention the likes of complicated family matters, the increased festive workload, high expectations in general, and of course the overwhelming cost of the festive season! Especially in an expensive city like London.
But never fear, our Off to Work elves have been busy creating a list of some of the most affordable ways to get into the Christmas spirit in London this year, without breaking the bank!
1. Enjoy the Christmas Lights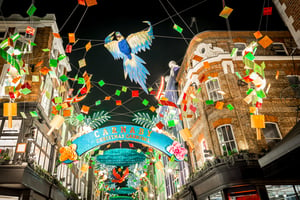 Turning on the Christmas lights marks the start of the festive season in many cities, including London - which boast some fantastic displays. Whilst most of the switching-on ceremonies have already passed, here's where you can see the most magical lights in the city:
Covent Garden
Oxford Street
Regent Street
Carnaby Street
Bond Street
Trafalgar Square
ZSL London Zoo's Christmas Lights Trail
2. Explore the Christmas Markets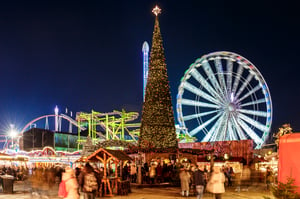 Whether you're looking for warming festive street food, handcrafted goodies, Christmas entertainment or simply enjoying a hot cup of delicious mulled wine and a walk around, London has so many different markets to explore and get you in the mood.
Why not check out Winter Wonderland, Southbank Centre Wintertime Market, Winterville, Leicester Square or Christmas by the River.
3. Make the most of the cheapest Ice Rinks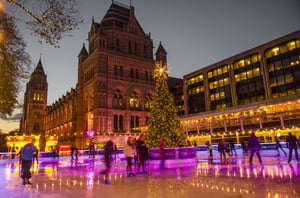 To save a bit of money try opting for a morning or early bird session - which generally tends to be cheaper. You can also save money by purchasing tickets in advance online, as well as group tickets. If you're a student -even better, most ice rinks in London have student discounts!
Check out the ice rinks at Tower of London, Canary Wharf, and Winter Wonderland.
We've been the Natural History Museum's Ice Rink supplier for over a decade, so come down and say hello to our fabulous team. Remember, the museum is FREE so why not enjoy an hour on the ice rink and make the most of your day out with a wander around the museum afterwards.
4. Watch Christmas Movies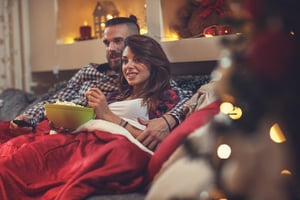 This is the perfect answer for a cheap night in – grab your family and friends and curl up on the sofa with a box of popcorn, a hot chocolate and your favourite Christmas film!
Whether you're looking for a laugh, a cry, or just a heart-warming tale of festive cheer, watching movies will keep your guests entertained for hours!
5. Make some homemade Mulled wine!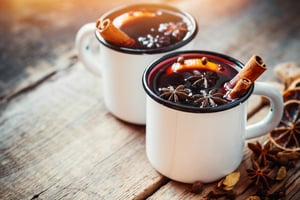 Mulled wine is super easy to make and can be inexpensive if you get your friends and family to pitch in a few pounds each. It's a great excuse to stick on some Christmas music, bring your loved ones together and get merry on a budget. Check out our recipe for Mulled Wine on our Youtube channel!
You can check out Off to Work's very own mulled wine recipe below!
Download our other favourite Christmas cocktail recipes below too!