>

>

>

Isolation Inspiration: Orzo and Bacon Recipe
---
We're now moving into a time where we are self-isolating to protect ourselves - and each other - in order to prevent the spread of coronavirus. As more of us stay indoors as much as possible, we got our thinking caps on for ways we could help you in the kitchen, with some households only having access to a few basic food items.
We asked our resident chef and Culinary Director, Ben Purton, to get creative and make some easy recipes using five main ingredients sent to us, by you, on Instagram. Click here to check it out!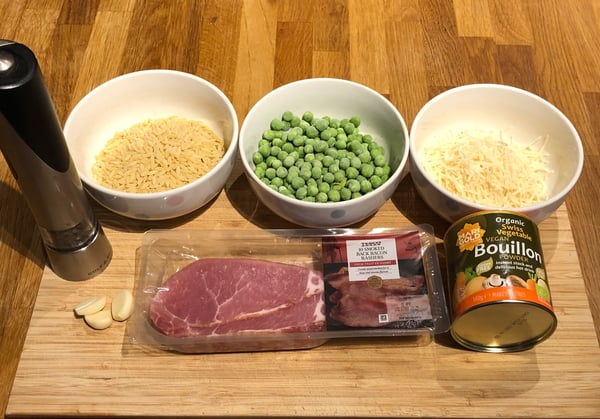 The first of these meals is an orzo and bacon dish. Orzo is a rice-shaped pasta that often gets overlooked by the supermarket stockpilers, so take a careful look next time you're out shopping for supplies. Orzo can easily be replaced with risotto rice, and if you're not a meat-eater, the bacon can be replaced with diced mushrooms. If you really want to veg it up, you can add spinach for an extra 10 minutes cooking time.
Ingredients
150g orzo pasta (or substitute with risotto rice)
150g frozen peas
3 cloves of garlic
1 pack of smoked bacon (or substitute with mushroom)
30g of grated parmesan
Powder veg stock to make 500ml stock
Black pepper
Vegetable oil
Now we know what you're thinking… this is more than five ingredients. However, we're going off the assumption that most people also have things like salt, pepper, vegetable oil and the like in their cupboards already. But without further ado, here's how to whip it up...
Directions
​Chop the bacon (or mushroom) into small cubes - around the size of a 10p coin.
​Heat a medium sized saucepan with a small amount of vegetable oil, add the bacon when the oil is hot, and fry off until cooked through and slightly coloured.
​Add the peas, stir in well and fry for one to two minutes.
​Crust the three cloves of garlic into the pan and mix in well. Alternatively, the garlic can be grated or finely chopped.
​Fry off the garlic for one to two minutes, then add in the orzo (or risotto rice), mixing it in well so all ingredients are combined.
​Add one teaspoon of vegetable stock powder (or one stock cube) to 500ml of boiling water from a kettle, pour this mix onto the orzo/rice and stir in well.
The pan should have remained hot throughout, but now just bring to the boil, turning the heat down slightly to a rolling simmer, stirring every two or three minutes to stop the mix from sticking to the bottom of the pan.
​After around 12 to 14 minutes, when most of the liquid has turned sauce-like in consistency, add in black pepper to taste. Test the pasta by removing a few grains and bite into them; it should still be a slightly firm, but not too hard.
​Turn the heat off, add in three-quarters of the parmesan, stirring it in well, and leave to sit while you grab a bowl.
Dish out the orzo and top with the remaining parmesan - tuck in and enjoy.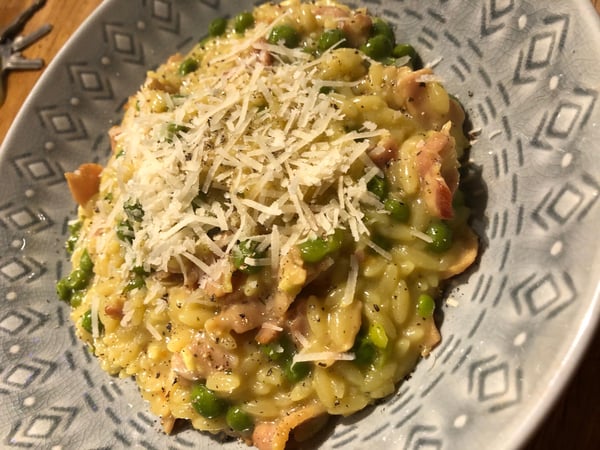 Stay safe and look after yourselves. If you make this meal, or your own variation, tag us on Instagram at @off.to.work!